QYK SET Acrylic Denture Repair Kit
(1) 2oz Acrylic Powder – Pink & (1) 1 oz Monomer
1 oz Liquid Monomer
Liquid Monomer for use with Qyk-Set family of acrylics. Produces TEMPORARIES in just 2 MINUTES! It's the best temporary acrylic for dentists on the market.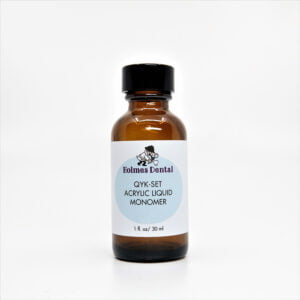 QYK SET ACRYLIC Liquid Monomer 1 oz
Shade
Description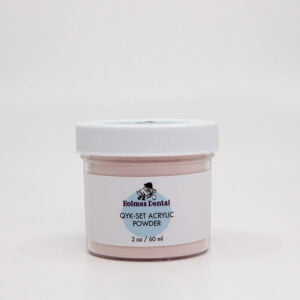 Qyk Set Powder 2 Oz - Pink
The QYK-SET Acrylic Denture Repair Kit by Holmes Dental - the ultimate solution for quick and reliable denture repairs.
With its self-curing properties, QYK-SET sets in just about 2 minutes, making it three times faster than our competitors. Its proven strong bond, minimal shrinkage, and low heat ensure durable and esthetic results.
Formulated with high-quality acrylic polymers, QYK-SET Acrylic Powder provides excellent strength, durability, and esthetics, making it a preferred choice for dental professionals worldwide. It can be used for the construction of dentures, assembly of implants, copings, and crowns, occlusal stops for bite registration, as well as the repair of dentures and ortho appliances.
The QYK-SET Denture Repair Kit includes one 2oz QYK-SET Acrylic Powder in the shade Pink and one 2oz QYK-SET Liquid Monomer, providing you with all the essentials for seamless denture repairs.
Upgrade your dental practice with the unmatched performance and convenience of the QYK-SET Acrylic Denture Repair Kit. Trust in the quality and innovation of Holmes Dental products for superior dental solutions.
| HOLMES COLOR | COLOR EQUIVALENT |
| --- | --- |
| TR - Translucent | Off-White |
| LT - Light | Ultra-White / Bleached |
| 59 | A1 |
| 62 | A2, B1 |
| 65 | A3 |
| 69 | D3 |
| 77 | B3 |
| 81 | B4 |
| Pink (for denture repair) | Denture Base Color |
Additional information
| | |
| --- | --- |
| Weight | 2 lbs |
| Dimensions | 6 × 6 × 6 in |
| Shade | 59 (A1), 62 (A2), 65 (A3), 69 (D3), 77 (B3), 81 (B4), TR (Translucent), LT (Ultra White) |
Search for Dental Products
Dental Product Categories